10 Career Pathways at Maryland Colleges to Consider
Author: N/A
Work Readiness
Published: Monday, 24 Jan 2022
---
Sharing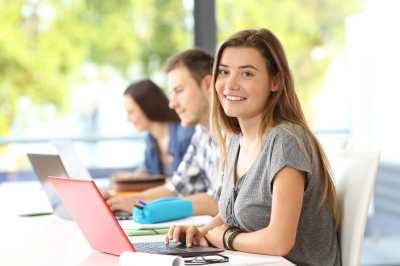 Image caption: Girl on computer
Choosing a career can be exciting yet daunting, especially when you may not know about all the options available to you. In this month's blog posts we uncover 10 career pathways you might not have thought about and we assess the details that matter, including potential salaries.
What's more, all suggested pathways can be studied at local Maryland colleges and universities. Read on to find out more:
Wind Turbine Service Technicians
Job details: Caring about the environment is a big topic right now. But who makes this all work? Energy technicians, that's who! And if we're talking about one of the biggest resources of green, clean energy, then we're talking about wind turbines. Did you know that there are more than 57,000 wind turbines across the United States? That's why we need service technicians who ensure turbines keep doing their job while being able to troubleshoot problems on the spot. Loving heights is a plus!
Where to study: Alternative Energy Technology (AET) Program at Hagerstown Community College
Growth: The U.S. Bureau of Labor Statistics (BLS) forecasts that from 2020 to 2030, opportunities for wind turbine service technicians will increase by 68%.
Major: This is a technical qualification so a high school diploma or associate's degree is needed.
Potential salary: The median salary for wind turbine technicians in 2020 was $56,230
We use cookies to provide you a personalized experience. How we do this is by analyzing user behavior on our site and sharing data with our advertising and analytics partners. You consent to our cookie policy if you continue to use this website.