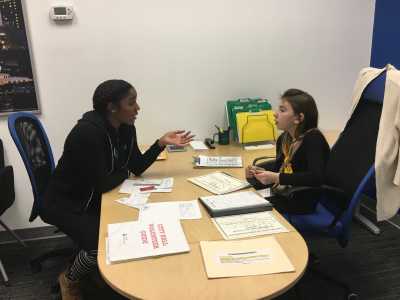 Image caption: Shawna Thomas sits with a JA student to explain a task.
"From high school until now, Junior Achievement has played a pivotal role in my educational success, and now I get to give back," said Shawna Thomas, JA BizTown Program Coordinator.
The JA alumna participated in JA High School Heroes, a program that gives students the opportunity to become role models by teaching and inspiring elementary students through JA curriculum, which focuses on financial literacy, work readiness, and entrepreneurship.
Shawna participated in her junior and senior years at New Town High in Baltimore County. Through the program, she strengthened her public speaking and presentation skills, gained exposure and work experience teaching in the classroom, and collaborated with her classmates while developing leadership skills.
Graduating this May at Stevenson University (SU), Shawna is using many of the skills she gained from JA not only in her academics, but also in her work as a leader outside of her classes. She serves as secretary of SU's Black Student Union, the president of the English Club, and a former speaker at SU's open houses with the English Department.
"JA allowed me to channel leadership skills that I did not know I possessed," added Thomas. "I felt more confident in my abilities to speak to people other than my peers. I've also improved my communication, leadership, and problem solving skills and use it in college."
Now, these skills are also benefitting Shawna in her JA BizTown role, where she empowers students beyond the classroom. Shawna ensures JA BizTown runs as smoothly as possible by assisting eager fifth graders as they run the simulated city for the day. In JA BizTown, students gain an understanding of personal finance, job responsibilities, teamwork and collaboration, and how they fit into a real-world environment. She is helping students thrive in this unforgettable experience.
"It is an honor to be able to work with such an amazing group of individuals to plant and cultivate seeds in children's lives," said Thomas.
Hannah Humphries is a program intern at Junior Achievement. She is an English major at Stevenson University who will graduate with her BA in May 2018. Her primary focus within her major is creative writing. She loves semi-colons, but hates exclamation points, though she makes some exceptions when writing about JA.