From the Marketing Intern's Perspective
Author: Anastasia Delices
Work Readiness
Published: Thursday, 05 Dec 2019
---
Sharing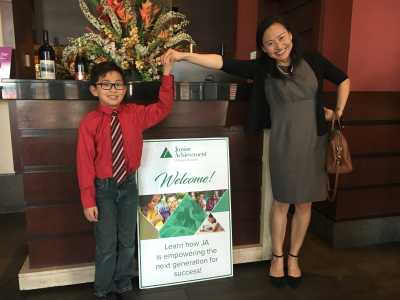 While internships are designed to give students like me hands-on experience in the field, I had no idea what to expect as the marketing intern other than being stuck working behind a desk, but at JA that was not the case. This internship exceeded my expectations and has taught me skills that will last a lifetime.
I knew I had to jump at the opportunity to work at JA because it's a nonprofit organization that focuses on empowering K-12 students through money, careers and business start-ups. These are all things that mean a lot to me especially being the oldest in my family and having seven younger siblings who look up to me for career and financial advice. Additionally, I love how JA incorporates mentors and volunteers. It really speaks to me as an active mentor in TU's Greek Ambassadors Mentorship Program.
During my time as the JA marketing intern, I oversaw marketing projects, managed various components of the website, and created web and social media content. I learned how to be a strategic marketer, strengthen my writing for various audiences, and really experience what it is like to work in a marketing department.
I didn't realize all the different components that make up what a marketing professional does but watching how hard my mentor [JA Marketing Director Katie Ballance] works to make sure JA has the best marketing is inspiring. Throughout this experience, Katie has shown me patience and kindness and I couldn't have asked for anything more.
While interning, I even got the chance to be a part of JA's largest event in the organization's history called JA Inspire. I worked with the multimedia team to ensure we captured the event to its full potential. It was exciting to see JA students in action and be able to interview them during the experience.
This semester has taught me a lot about myself, but I'm most proud of the relationships I developed during my journey at JA. Being able to work closely with many members of the JA team has opened my eyes to the many different roles it takes to run an efficient organization.
I walked into JA of Central Maryland with limited marketing experience and I'm leaving with useful skills that I can take with me for years to come. While my next "official" steps after graduation are still in progress, I know that the future holds an endless amount of opportunities thanks to my time at JA and for that, I am eternally grateful.
If you or someone you know is looking for a great internship in marketing and communications, education and outreach, or development and special events, click here for more information.
Anastasia Delices is a marketing intern at JA of Central Maryland. She is a communications major at Towson University who will graduate with her BA in May 2020. Her primary focus within her major is marketing.
We use cookies to provide you a personalized experience. How we do this is by analyzing user behavior on our site and sharing data with our advertising and analytics partners. You consent to our cookie policy if you continue to use this website.