Maryland "Royalty" Returns to JA BizTown
Author: Anastasia Delices
Corporate Responsibility
Published: Wednesday, 27 Nov 2019
---
Sharing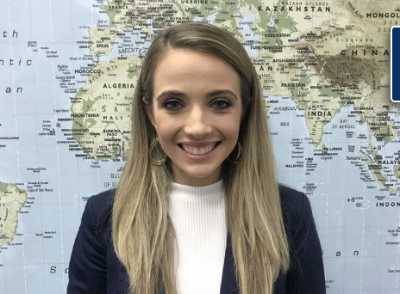 Image caption: Caitlyn Stupi poses in JA BizTown
Ten years ago young Caitlyn Stupi stepped into the small city of JA BizTown where she learned the fundamentals of financial education and workforce preparation. However, what she did not know is that later she would be returning to JA -- this time as Miss Maryland.
"Walking through these doors was a 'wow' moment. The last time I was here was in the 4th grade," Caitlyn recalls. "I was a young CFO in my JA BizTown business, and I remember how much bigger it felt because I was smaller. It's still so impressive that they're able to create a micro-economy for the kids to experience."
Despite her busy schedule, Caitlyn found time to come back and help our future leaders. Just this year she received her bachelor's degree in graphic arts from Liberty University, where she graduated with honors. Later that summer Caitlyn was also crowned Miss Maryland.
"Crazy is the only way to describe it. I'm honestly still waiting for it to set in. But it's kind of funny how the realm of financial literacy and my involvement in the Miss America organization overlap because this is an investment in my future with being able to earn scholarships," said Caitlyn.
Having had such an impactful experience from JA BizTown, Caitlyn continues to promote youth financial literacy by choosing this as her cause of choice for Miss America's Social Impact Initiative. "Junior Achievement was one of the major influences that instilled my value of financial responsibility. It fueled my desire to help educate our next generation!"
Not only does our crowned state representative understand the value of this social justice: she also understands the importance of volunteering. During her return visit to JA BizTown, with a smile from ear to ear, Caitlyn answered questions from excited students who worked in the Wells Fargo Community Newspaper. "JA is one of the experiences I can say that actually taught me about the real world," she says. "It's so cool to be back and help the kids understand the real world themselves."
We wish Caitlyn the best of luck in the Miss America pageant! Be sure to tune in December 19th on NBC.
Anastasia Delices is a marketing intern at JA of Central Maryland. She is a communications major at Towson University who will graduate with her BA in May 2020. Her primary focus within her major is marketing.
We use cookies to provide you a personalized experience. How we do this is by analyzing user behavior on our site and sharing data with our advertising and analytics partners. You consent to our cookie policy if you continue to use this website.